We require families to pick their puppy up in person at our home in Indianapolis, Indiana. You can book your flight as soon as your puppy is born to get the best rate on flights to Indianapolis International (IND). We set the pickup date at the time of birth. You should expect to be here on a Saturday at 1:00 pm EST.  During pick up you will be attending a 90-minute Puppy Seminar to learn about your new puppy. Please plan accordingly. We are located about an hour north of the airport, you will need time to get here, be here for 90 minutes, and travel back to the airport for your departing flight.  Please consult with us prior to booking your flight.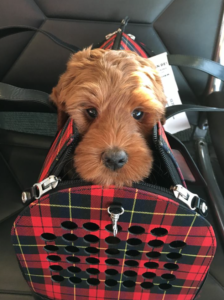 Puppies must be under 20 lbs at the time of flight to be approved as carry-on. Generally, an eight week old puppy is 8-12 lbs. Puppies that stay for training must be picked up in person in order to meet at our home for a training session. Puppies vary in size from 10-20 lbs at four months of age.
When picking your puppy up you will need a soft-sided duffel bag style pet carrier that will fit under an airplane seat. Our recommended carrier is on our supply list.