Our website will answer most questions you have about the Australian
Labradoodle including: price, available puppies, upcoming litters, size, color and temperament. Please take the time to review our site before inquiring about these things. To save time we may respond to your inquiry by providing you with a link back to a specific page of our website to answer your questions.
We keep our website up to date to the very moment something changes. New litters are added as they are bred. If you are inquiring about our future litters please note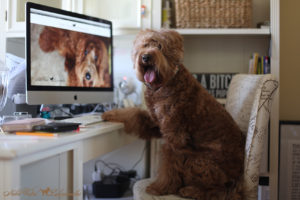 that puppies being bred today will arrive in nine weeks and go home eight weeks later (four months from now). This means that if a litter is not listed on our site right now then you will have a minimum of at least a four-month wait.  Please also note that we accept reservations all year long toward unbred litters. This means that many times a litter will be listed and be completely booked at listing. Last-minute cancelations and openings are made available to those already on our reservation list.  If you are interested in being added to our reservation list please complete our application found on the Adopt section of our website.  We love learning about our prospective families but this is not the place to do that. Please fill out our application, we have very specific information that we are looking for from you.
If you are contacting us to schedule a visit, please read our visitation policy. We are not a kennel and do not offer tours to the general public, our dogs live in our home and in guardian homes.
We Do Not Currently Have A Doodle Day Scheduled! This event is open to all Noble Vestal Labradoodle owners and families on our waitlist.  Non-owners will be required to complete an application found under the Adopt section of our site.  Non-owners should complete our application before contacting me for a proper invitation.  More details listed on our Facebook page.
I am best reached at 317-440-3530 but please do take the time to review our website before you call. The paragraph above has links to the most commonly asked questions.

WE WELCOME PHONE CALLS MONDAY-FRIDAY FROM 9:00 AM - 4:30 PM EST.
We return all phone calls Monday-Friday.
Please respect our family time and do not call on a holiday.
IF YOU HAVE READ THE ABOVE INFORMATION CLICK HERE TO CONTACT US