We are working on developing video grooming sessions with a master groomer that will help you learn how to properly groom an Australian Labradoodle for now here is our printable Grooming Guide.
You should be combing/brushing your Australian Labradoodle every other day.
It is highly recommended that your Australian Labradoodle be taken to the groomer once monthly starting at 12 weeks of age for a proper bath and blowout. This will insure that if you are missing any stubborn areas that tend to mat quickly the groomer can get them before they are matted to the point of requiring a shave down…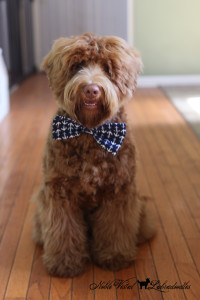 Ask the groomer to clip between the paw pads, trim the potty area and eyes. If this gets done once monthly your dog will only require a full groom every third grooming visit.
Yes you can bathe and brush out your dog at home but most owners do not do a sufficient enough job coming to be able to bathe at home.  If a doodle is bathed and has any mats they instantly become tighter and bigger.  Professional groomer have professional equipment that make grooming your dog easier and more comfortable to your dog.
A properly maintained and groomed doodle will not need shaved! There is no such thing as a summer cut Work with your groomer to set up a standing appointment for a monthly bath and brush out; and then a haircut every third visit.
Tip your groomer- 20% is standard. If you take them a matted doodle tip more. The dog is matted because you aren't brushing it frequently enough!
Schedule
DAILY

Comb and finish by brushing
Remove eye gunk

WEEKLY

Clean ears with nothing wetter than a baby wipe.
Trim nails
Trim between eyes as needed
Trim potty area as needed

MONTHLY

Professional bath & blowout this should start when your puppy is 12 weeks old (book a standing appointment with the same person)
Every third month professional haircut (book a standing appointment with the same person)
Tips:
Keep your dog dry, do not allow them to be wet unnecessarily
Do not bathe at home

Residential water pressure is not strong enough to rinse soap out of a doodle coat.
Residue left in the coat will attract dirt and cause matting.
Poor quality store brand products will attract dirt and cause matting.
Do not use detangler on your doodle's coat. Coat conditioner, polish and detanglers are meant to be used on freshly washed coats prior to drying.
If your doodle has any size mat this mat will get bigger and tighter when it gets wet.

Do not jump from groomer to groomer, a good groomer is worth following and sticking with even if they move salons.
Do not use dematting rakes they strip and break the coat, a broken coat gets matted fast.