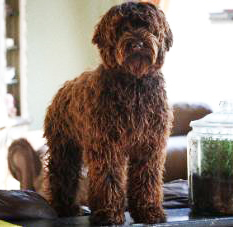 The Labradoodle was bred over 20 years ago in the 80's in Australia by Wally Conran of the Royal Guide Dogs in Victoria, Australia. The breed was developed by the intentional breeding of a Labrador Retriever and a Standard Poodle. This mixed breeding was done after several years of research to find an allergy friendly guide dog for a family in Hawaii. Originally several samples of Poodle fur were sent to the family. Unfortunately they all caused allergic reactions to the husband of a blind woman. That is when the idea of breeding this mix breed came to fruition.
The first litter only produced three puppies and with much success one of the three puppies tested positive for being allergy friendly. This dog was known as Sultan and went on to be trained as a guide dog. In order to further enhance the allergy friendliness of the Labradoodle breeding started to take place that included breeding Labradoodle to Labradoodle to make Double Doodles. Then breeding of Double Doodle to Double Doodle took place to produce a Tri Doodle. This type of breeding alone did not prove to create a consistently non shedding, allergy friendly dog with the temperament suitable to become a service dog; therefor additional breeds were profiled and added to create what we now know and call the Australian Labradoodle. This infusion was meant to enhance the Australian Labradoodle's temperament, coat, health, companionship and keen skills. Today there are few American Labradoodle breeders who use the original formula to produce their Labradoodles. Thus creating two different breeds of Labradoodles, generally known as the Australian Labradoodle and the American Labradoodle or the Multigen or Earlygen Labradoodle. As history is made every day please come back to this page often to read about the developments of the Australian Labradoodle and their progression to breed recognition as a pure breed dog.
Breed Standards
The Australian Labradoodles Temperament and Soundness are the two KEY elements in a good family companion; they must not be sacrificed for any reason.