We recognizing the importance of positive reinforcement training and wanting to help you get started on the right PAW as quickly as possible, we have partnered with BAXTER & Bella to provide discounted lifetime access to their exclusive MEMBERS ONLY online puppy school, including all their valuable training resources! Starting your puppy right, leads to the very best in canine companionship! ​
In order to save, use our code: NOBLE for 25% off of a LIFETIME membership. This means that a LIFETIME Membership priced at $238, will be yours for $178.50!
So you didn't get your puppy from us. Don't let that hold you back. You can still take advanage of our special discount. Feel welcome to share it with your friends and family, and together we will raise our puppies to be the PAW-SOME family members we always dreamed of!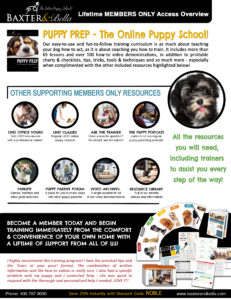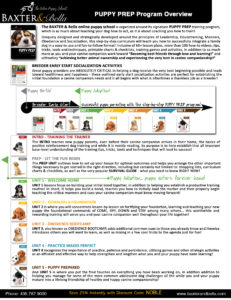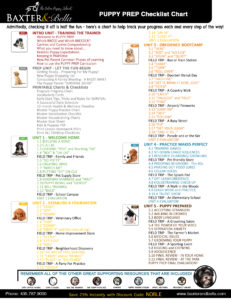 Puppy School
We understand that some families want a well behaved family companion but neither have the time, patience, or inclination to train your Australian Labradoodle. To solve this dilemma we have opened a Puppy School. Our school focuses on continued socialization, handling subordination and imprinting your puppy with the skills that will make him a wonderful family companion, therapy dog or service dog. Your dog is housed with our private trainer on his premises and professionally trained. At the completion of training, you are given a private lesson on how to handle the dog so your only responsibility is re-enforcement.
Primary Education (6 week course)
Puppies may be enrolled in Primary Education at 8 weeks of age. During the 6 week program your puppy will learn all of the basics listed here along his regular vaccinations given at 12 weeks. Your puppy will be well on his way to becoming a Canine Good Citizen! An added advantage of our training is that our puppies are socialized with the outside world and living in a home environment.
Walk on a loose lead while resisting distractions
Sit on verbal command
Down on verbal command with hand signal
3 minute Sit-Stay, handler away from dog resisting distractions
15 minute Down-Stay with same criteria as Sit-Stay

Must be able to walk around the dog on Sit-Stay and step over the dog in Down-Stay

Come sit in front of handler on a lead on verbal command without a leash correction
Heel with an automatic Sit-Sit Stay for 5 minutes resisting distractions, handler away from the dog
Down-Stay for 1/2 hour with the same criteria as Sit-Stay
Down on verbal command without cue
Come from Sit-Stay with handler from the dog with long line on the floor
Heel with an automatic sit outdoors
Si- Stay for 5 minutes resisting distractions, handler away from the dog
Down with verbal command while sitting or up and moving
Down-Stay for 45 minutes with same criteria as Sit-Stay
Stand-Stay for brushing and handling
Come from a Sit-Stay across the room dragging a leash
1 hour Down-Stay
Military Finish
Random Sits and Downs
Random Come under distraction on a long line without correction
Work on out of sight Stay
Finishing School (4 week course)
At the completion of our Puppy Prep program your puppy is ready for Finishing School. This 4 week program is designed to get your adolescent dog solid and reliable off leash in an open environment with distractions.
Upon completion of this program your dog will either be evaluated with me as the handler or you if you are able to pick him up in person for his Canine Good Citizen test. This is also the foundation for dogs that will advance into therapy or working dog status. Puppies will receive an addition vaccine to complete their puppy series and rabies no later than 16 weeks of age.
Pros/Cons
Not all trainers work well with the extreme happy go lucky nature of the Australian Labradoodle. Some trainers are heavy handed and will shut them down breaking their spirit while others will become frustrated by the dog's silly nature and not know what to do.
Socialization is a key aspect of raising a well balanced puppy, this is something that we work on daily to ensure that all of our puppies are well rounded and happy.
We spend the late nights crating training and the early raining or cold mornings doing potty runs.
Potty training is the hardest thing to transition with any dog of any age. It isn't about the dog, it is about space, supervision, your consistency and ability to watch the dog at all times. Potty training is more about you than it is about the dog.
We don't create robotically perfect puppies, we give puppies a foundation, imprinting them with skills that you must be able to reinforce. Your lack of being able to speak the same language as your new puppy will demolish any work we do with your puppy. You must be willing to attend classes to learn the behaviors and practice them with your dog.
LEARN HIS/HER NAME
BEGIN CRATE TRAINING
BEGIN HOUSE-TRAINING (NOTE: PUPPIES ARE NOT FULLY HOUSE-TRAINED, BUT ARE WELL STARTED.)
BEGIN CAR RIDING ETIQUETTE
SOCIALIZATION TO DOGS, CATS, CHILDREN, NOISES OF A NORMAL SUBURBAN HOME AND LIFESTYLE
EXPOSURE TO STAIRS, ETC.
LEARN TO UNDERSTAND AND DEVELOP HOUSEHOLD MANNERS SUCH AS NOT JUMPING, NIPPING, ETC
LEARN TO "FOCUS" ON CUE
LEARN "SIT"
LEARN "DOWN"
LEARN GO TO "PLACE/CRATE/BED"
BEGIN A "STAY" CUE
LEARN "TOUCH" FROM SHORT DISTANCES (COME).
DEVELOP LOOSE LEASH WALKING