Allergies in dogs and cats can be hard to identify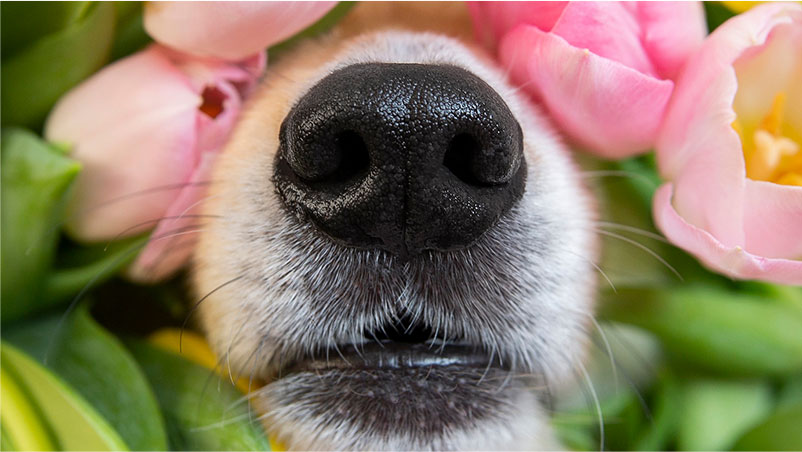 When seasons shift, we hoomans run the risk of experiencing seasonal allergies and know just how uncomfortable they can be. Unfortunately, so do our wet-nosed companions!
Allergies in dogs and cats can be hard to identify — and even trickier to treat. As pet parents, we want our fur babies to be comfortable, pain-free and at ease. So how do we help?
Here's everything you need to know about seasonal allergies in cats and dogs, including less obvious symptoms to look out for and how to manage the allergies.
Do Pets Have Seasonal Allergies?
Yes! While food allergies are quite uncommon, many dogs and cats have seasonal allergies. In fact, about 10-15% of pets experience environmental allergies.
Seasonal allergies have to do with our fur baby's environment. They might be sensitive to the pollen in the air, the grass they're romping through, or the dust in your home.
Allergies in dogs and cats don't always look the same. Some fur babies experience symptoms once or twice a year, while others are sensitive year-round. If your fur baby has allergies once a year, it likely has to do with grass, weeds, or pollen. If they experience symptoms year-round, mold and dust are likely to blame.


What symptoms should I look for?
While symptoms in hoomans look like runny noses and itchy eyes, allergies in dogs and cats look a little different. Most pet parents are familiar with the obvious signs, like excessive itching or hot spots, but there are a few less obvious symptoms to be aware of.
Here are some of the allergy symptoms in cats and dogs:
Excessive shedding
Compulsive licking of paws
Rubbing their bottom against the floor (as if to itch)
Biting coat and skin
Skin discoloration
Chronic ear infections or regularly inflamed ears
Sneezing often or difficulty breathing (especially common in cats)
If they have allergies, your fur baby will likely start to show symptoms between ages 1 and 3 years old. The easiest way to determine whether your dog or cat has allergies is to take them to the vet!
Remember: Our four-legged family members can't tell us how they feel. Keep an eye out for abnormal behaviors, so you can protect their health and keep them feeling well.


How Do I Treat My Pet For Seasonal Allergies?
If you start to notice symptoms of allergies in your dog or cat, take them to a trusted vet. Regardless of the root cause, no one wants their fur baby to be itchy all day long. If your veterinarian determines the cause of the symptoms is seasonal allergies, they can help you find the best course of action for your fur baby.
If you know or suspect your pet might have seasonal allergies, there are several natural ways to boost your fur baby's immune system and soothe their symptoms. A natural allergy solution set can help your fur baby feel good in their skin again — and keep them protected as they romp around in the sun.

1. Avoid Allergens
First, help your fur baby avoid potential allergens. While it's impossible to avoid airborne allergens altogether, there are a few ways you can help limit your pet's exposure.
Wipe your pup's feet off as they come inside, vacuum your carpet regularly, and routinely wash all plush toys and bedding. If you struggle with mold in your home, try a dehumidifier. (It's good for you too!)
These small acts will reduce the amount of allergens your pet is exposed to and make a big difference in your fur baby's comfort.

2. Prevent And Protect
When dealing with seasonal allergies, look for ways to boost your pup's immune system! By giving the immune system a little extra love, you help your fur baby reduce inflammation and discomfort.
At pawTree, we recommend supplementing your pup's nutrition with Salmon and Pollock Oil and Allergy Support Plus. Salmon oil is rich with Omega-3 fatty acids — a nutrient that's necessary for almost every function in your pet's body. It's specifically known for supporting the immune system and promoting a healthy skin and coat.
Allergy Support Plus is a comprehensive allergy supplement meant to promote the body's natural ability to fight allergies. It balances the deficiencies and excesses in the body, drains phlegm, and helps reduce heat, which makes your fur baby more comfortable. It's also particularly good for combating skin-related issues!
3. Soothe And Treat Symptoms
After you've eliminated allergens and armed your fur baby with some preventative supplements, you can soothe and treat existing symptoms.
PawTree's Skin Support Plus is our favorite way to relieve our fur babies of their allergy symptoms. It's an all-natural blend of aloe vera, tea tree oil, and chamomile that will immediately soothe the skin (without affecting any flea treatments already applied). Whatever you choose, look for natural blends of soothing ingredients. A solution like this can provide gentle, immediate relief, so your pup can enjoy their day.
Allergies in cats and dogs can be a pain (for you and your pup). As pet parents, we want our favorite four-legged family members to be comfortable and pain-free!
An allergy solution set is a good, natural medication for allergies in dogs and cats. It can provide immediate relief while protecting them in the long run — and we all want our fur babies around for the long run.