Knowing how to groom your wet-nosed companion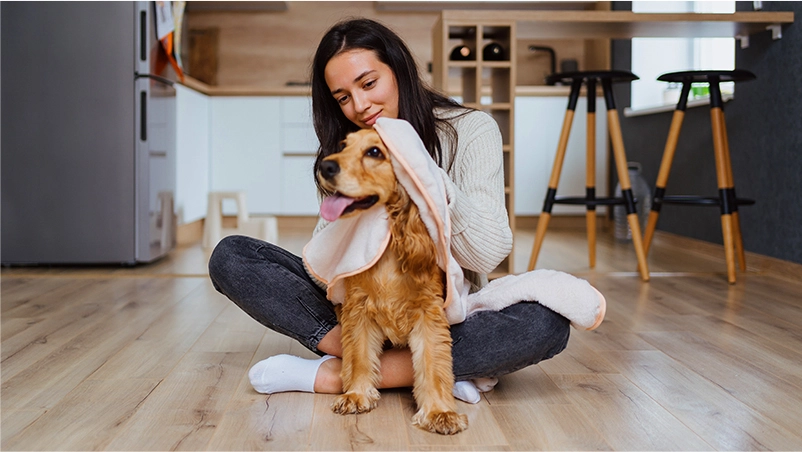 Knowing how to groom your wet-nosed companion is part of being a responsible, loving pet parent! Just like hoomans, hygiene is a part of protecting our pup's overall health and well-being.
Every dog — no matter the size, weight, fur-length, or age — needs to be bathed occasionally, and the groomer isn't always available. Plus, every pup parent knows that clean cuddles are the best cuddles.
Here's everything you need to know about dog grooming, including groomer-style tips for bathing a dog and how often you should wash your pup!
What Supplies Do I Need To Groom My Dog?
Brush
Towel
A sprayer, pitcher, or hose
5 Tips For A Better Puppy Bath
Bathing a dog can be tricky — especially if your pup isn't fond of water. However, dog grooming is a crucial part of your pup's skin and coat health. If done right, it can become bonding time with your fur baby!
These 5 dog grooming tips will make bath time a little less stressful and a lot better for your pup's health.
1. Pre-Wash Care
Great dog grooming starts with a little pre-wash care.
First, brush your fur baby thoroughly — especially if your pup has medium to long hair. Matted hair is made worse by water, and bad mats can cause long-term skin discomfort.
Then, stuff cotton in your fur baby's ears. Trapped moisture is the primary cause of ear infections in dogs! The cotton will reduce the likelihood of water getting into your fur baby's ears and help with any ear sensitivity.
2. Use Treats & Toys To Distract
Any pro groomer will tell you the key to a stress-free puppy bath is to make it enjoyable for them! Pull out their favorite treats as a reward, and use toys to distract them throughout the bath. This Rub a Dub Tubby toy is a pawTree pup favorite for SPAw days.
Soon, they'll associate bath time with fun pet-parent bonding time, which will make your job a whole lot easier.
Pet parent tip: Stay calm! If you're happy and excited about the bath, your pup will match your energy.
3. Choose The Right Shampoo For Your Pup & Start Washing
Choosing the right shampoo is arguably the most important part of dog grooming. Low-quality or soap-based shampoos can cause skin issues and discomfort that could last your pup a lifetime.
So what kind of shampoo should you choose? Look for paraben-, sulfate- and soap-free products that are hypoallergenic. (Soap will dry out your pup's skin!) Ideally, you also want to use shampoo that contains vitamins that boost skin and coat health.
PawTree's shampoos contain nano-encapsulated vitamins A, D, and E, as well as essential fatty acids to help with flaking and shiny coats. If you have a pup that's prone to allergies or itching, try out an itch-relief product!
Once you've found the right shampoo, lather up and work from the tail-end first. When you get to the face, work carefully to not get shampoo in their eyes. At pawTree, we recommend avoiding the risk altogether and using wipes around the face, instead of shampoo.
4. Rinse Really, Really Well
Once you're done, be sure to fully clean all the product off your pup. When you think you've gotten all the shampoo out, rinse again! (We're not kidding.)
Leftover suds can cause skin issues like itching, infections and irritation. Dog hair is especially good at hiding pockets of shampoo, so use your hands to feel around the belly, armpits and genitals to be sure your fur baby is fully rinsed off.
5. Post-Bath Care
Now that your fur baby is toweled off and all clean, it's time to spoil them a little! Post-bath care takes dog grooming from a simple wash to a full, fun SPAw day for your pup.
First, use paw balm on your pup's feet and nose. This will protect your fur baby from cracking pads and heal damaged skin cells. Paw balm is especially useful during the winter, or if you live in a dry environment.
Once your pup is properly toweled off, brush your pup again! This removes any tangles, which will make your job easier the next time. Plus, brushing post-bath captures any loose hair, meaning there'll be less shedding in-between washes.
P.S. A bath is the perfect time to brush your dog's teeth! Oral hygiene is often overlooked, but is a crucial part of your fur baby's overall health. Here's everything you need to know about your pup's dental care.


How Often Should I Bathe My Dog?
Short-haired pups need to be bathed once every 3-4 months. On the other hand, Australian Labradoodles and other doodle type dogs to be bathed every 4 weeks. If your Australian Labradoodle plays outside often, you might need to blow them out with a force dyer between bathes to freshen them up.
Generally, avoid washing your pup more than once a month! Bathing a dog too much can dry out their skin and cause issues with flaking and itching.
If you feel like your pup needs a scent refresh between baths, try out a deodorizing mist. PawTree's aloe and coconut mist helps with smelling good without using any harmful products.
Our four-legged family members bring such joy to our lives! Good dog grooming takes care of your fur baby's health in the long run, so bathing your pup is the perfect way to love them back.
PawTree's SPAw set has everything you need for a successful bath day. Clean, sweet-smelling puppy cuddles are on their way!