We require families to pick their puppy up in person at our home in Indianapolis, Indiana. You can book your flight as soon as your puppy is born to get the best rate on flights to Indianapolis International (IND). We set the pick up date at the time of birth. You should expect to be here on a Saturday at 1:00 pm EST (There are rare cases when the time may be set for 11:00 am EST).  Please mark your calendar early in the puppy process so that you do not miss this important date.  The go home date and time is not flexible! Please do not inquire to pick up early or on a different date, make arrangements for this important day so that you can be here!
The pick up date and time is listed on your puppy's litter page off of the Available Now page.  This date and time is not flexible! This is a group pick up and attendance is mandatory.  Be prepared to be here for 90 minutes. PLEASE NOTE WE WILL BE IN OBSERVANCE OF COVID-19 SOCIAL DISTANCING WITH PUPPY PICK UP THROUGH SEPTEMBER 2020. PLEASE CLICK HERE FOR DETAILS. I will go over crating, socialization, feeding, training, grooming, do's & don'ts to help you get off on the right foot with your puppy.
Please be on time as we will start immediately at the above stated time. It is rather disruptive when family arrive late.
For those of you with children, please be forewarned that this puppy pick up is not the 'fun family event" that you are probably imagining and children become bored and disruptive very quickly… think "one hour lecture" I highly recommend a sitter for children. If the entire family must travel we have a few local places where you can drop dad and the kids off so that they can play. This will allow you to fully take in all the important instruction that I will be giving without disrupting the session for others.  I have seen it happen over and over and where parents become distracted with children, even older kids sometimes, and aren't able to completely soak in all the important things that will make the first few weeks SOOO much easier!  In fact, it happens at every puppy pick up and it is no fun or fair for others.  Many families fly in for pick up and are on a tight schedule to get back to the airport.  It is no fun when anyone is late or causes a distraction or delay in the session.
Things For Your Family To Do While You Are Picking Up Your Puppy!
If you have not ordered food please do so NOW!  I do not have food at my house to give you or sell to you.  I am unable to allow my puppies to go home with you if you are not prepared with their food prior to pick up day! We feed the puppies the Grain Free All Stages formula, there is a link on the shopping list. I am always puzzled when a family sits in my family room with 10 other families and asks what the puppies have been eating…
Final payment is due at week six, if you are paying at pick up because your reservation was late in the process please bring cash, require full payment before puppies leave our home.
I am located at 10549 N 550 W, Frankton, IN 46044. It is always easier to be early and go sight seeing rather than be late and miss the puppy pick up session or cause it to run behind for others.  If you forget to program my address into your GPS and you google me you will end up at the wrong location.  Be prepared- set the GPS and pack the car the night before.
If you are traveling a long distance you should pack your car with a water dish, bottled water, a towel or two, wet wipes/clorox wipes, poop/waste bags, and a leash.  If someone is traveling with you your puppy will prefer to ride on someone's lap.  If you are traveling alone be sure to bring a crate lined with a towel(s).
WARNING- for those who suffer from allergies please take medication before arriving. We have two indoor cats, I am allergic to cats but neither bother my allergies.
Coming From
Chicago or Wisconsin

Please remember that we are an hour ahead of you!
Plan for traffic on holidays!
Leave earlier than needed so that you aren't late.
When returning home with your puppy you can stop at Fair Oaks to let your puppy potty, refuel your vehicle, grab a bite to eat and stretch your legs. This and Merrillville are the only stops I ever make.

Cincinnati
Columbus
Michigan
St Louis
Traveling By Plane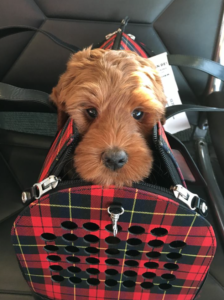 For families who are traveling by plane please note, I am only 55 miles from the airport but it takes an 75 minutes to get here!

You will be here for 90 minutes
You will need an hour to get back to the airport.
Indianapolis International recommends checking in with your puppy 90 minutes prior to flight departure on non holidays (you will need more time during the holiday season)
Please allow yourself enough time between your arriving and departing flights!
You can rent a car or Uber from the airport to my home.

Leo has been Ubering my families to and from the airport.  You can contact him to schedule a pickup and return at 317-501-7700.  He can fit multiple passengers in his Lincoln Navigator!

You will need an airline approved soft carrier.  I recommend packing a few disposable potty pads, a collapsable dish, leash, toy and something yummy to chew on for the puppy.  If you would like I can have a carrier packed and ready for you for an addition fee of $200.00.
Please note many airlines have age restrictions for puppies flying in cabin! United now requires puppies to be 15 weeks of age to fly in cabin. Delta requires puppies to be 10 weeks of age but does not check. Alaska, Swouwest, American and Frontier all allow 8 week old puppies to fly in cabin.
Spending The Night
I recommend staying in Noblesville, IN
The area is known as Hamilton Town Center
We are nestled in a great area for shopping and dinning.
Check out Bring Fido for hotels nearby that allow pets
Cambria, Embassy Suites by Hilton and Holiday Inn Express are all conveniently located near shopping and amazing food.
Our favorite places to go with your puppy

Cafe Patachou at Clay Terrace or Broad Ripple http://cafepatachou.com
Three Dog Bakery in Noblesville or downtown Indianapolis… everything at the downtown location is awesome for You and your dog!
The flipbook below is an example of your binder, the personal documents are not customized to your puppy. You will receive your binder at pick up and it will have your puppy's  documents (warranty, pedigree, physical, vaccine record, spay/neuter certificate, fecal).
There is an audio file on the Table of Contents page. The audia may take a mintue to load and has 25 minutes of dead air. sorry.
Please email me with questions after you listen to the audio. I will post questions and answers below.