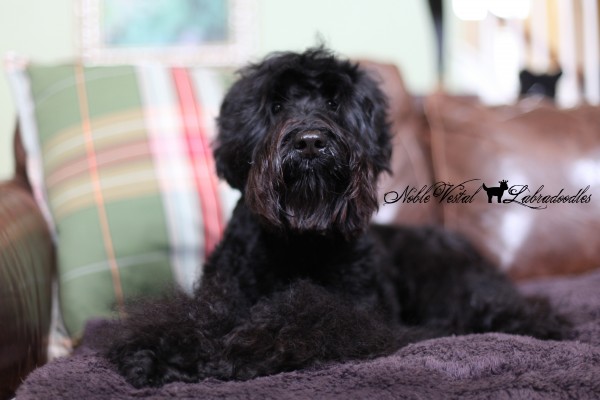 Noble Vestal's Ferrero Rond Noir
aka Noir
Australian Labradoodle
Coat:
Black BbEe Fleece
Breeder:
Noble Vestal
Sire:
Black Canyon's Midnight Parti
Dam:
Noble Vestal's Rumor Has It
DOB:
01/27/2013
Size:
Standard
Height:
20
Weight:
45
Length:
20
Testing Results:
Click to View Testing
OFA Good
PennHip 50%
Noir comes from the combination of two of my favorite lines created from scratch in America!  We couldn't be happier to to have been part of the creation of some amazing lines. She has a beautiful silky fleece coat that is non shedding, a temperament that is easy going and non dominant.  Being in Noir presence is the best therapy ever- she loves to look into your eyes with her head on your lap or snuggled in close to you.
Photo Gallery
Pedigree & Testing Documents
Past Puppies