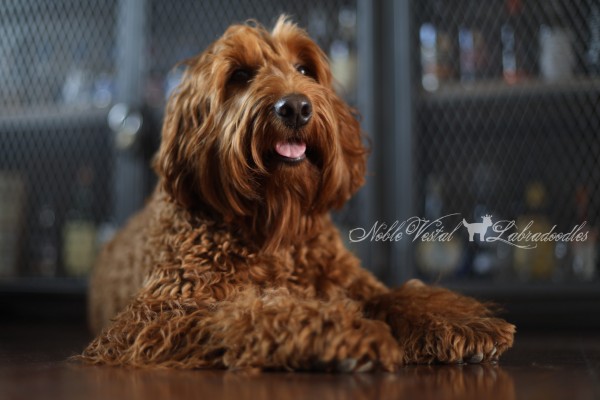 Noble Vestal's Hey Sexy Lady
aka Lady
Australian Labradoodle
Coat:
Apricot BBee Fleece
Breeder:
Noble Vestal Labradoodles
Sire:
Barksdale's Burberry's House Check
Dam:
Noble Vestal's Savoir Faire
DOB:
09/25/2018
Size:
Medium
Height:
18 inches tall
Weight:
40 lbs
Length:
Testing Results:
Click to View Testing
OFA Excellent
PennHip 90%
Wallace: Excellent
PRA Clear
EIC Clear
We are so incredibly excited to introduce you to Noble Vestal's Hey Sexy Lady aka Lady. Lady is a gorgeous girl with the most perfect silky fleece coat that even Rapunzel would have been jealous of.  She is broad and has a sturdy muscular build like her father. Noble Vestal's Hey Sexy Lady comes from a long line of nobility. Her grandparents are Noble Vestal's Sergeant Pepper and Noble Vestal's Midnight Diamond, Sarge & Dime are both retired but their puppies were among some of the most beautiful Australian Labradoodles. We have worked with this line for over four generations and have produced some amazing family companions, therapy dogs, even several service dogs from this line.  Lady carries on with her steady temperament that is sweet and easy to be around. She is a loyal companion that will never leave your side and has never met a stranger that wasn't her best friend.
Photo Gallery
Pedigree & Testing Documents
Past Puppies