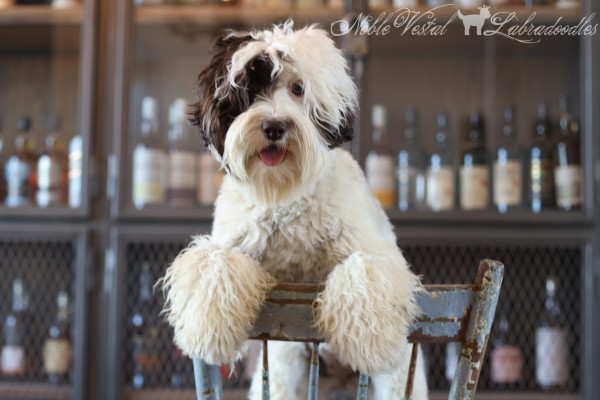 Noble Vestal's Ball of Happiness
aka Togepi
Australian Labradoodle
Coat:
Chocolate & White Parti bbEe Fleece
Breeder:
Noble Vestal Labradoodles
Sire:
River Bend's We Be Jammin
Dam:
Noble Vestal's I Choose You
DOB:
03/19/2019
Size:
Mini
Height:
17 inches
Weight:
25 lbs
Length:
17 Inches
Testing Results:
Click to View Testing
OFA Good
PennHip 60%
Wallace: Good
PRA Clear
EIC Clear
Photo Gallery
Oh Hello! Togepi! Noble Vestal's Ball of Happiness is the perfect name for this little fluff ball. She is so incredibly sweet and happy. I can't think of an easier dog to love and be loved by. She is happy to do what ever you are doing, isn't going to challenge or go against the flow. She loves to give kisses and play fetch, her tail wags non-stop and she appears to have a perpetual that is contagious. Her demeanor is amazing for a pint sized pup. Her confirmation is spot on as well, she is nice and square with a broad chest and shoulders, blocky head and nice ear placement.
Pedigree & Testing Documents
Past Puppies
Has Not Had Puppies