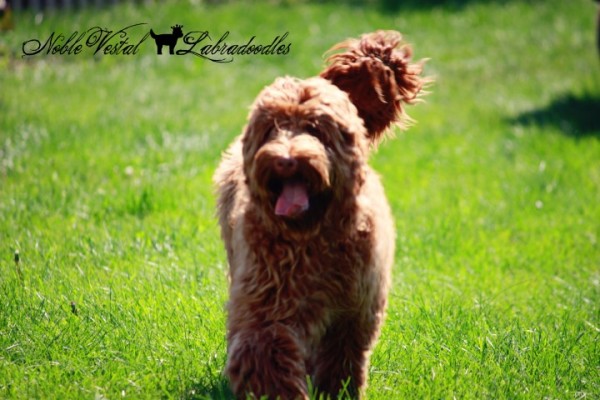 Noble Vestal's Sergeant Pepper
aka Sarge
Australian Labradoodle
Coat:
Red BBEE Fleece
Breeder:
Noble Vestal
Sire:
Berkshire Hill's Kit Carson
Dam:
CFL's Red Rose
DOB:
10/31/2010
Size:
Medium
Height:
18"
Weight:
45 lbs.
Length:
19"
Testing Results:
Click to View Testing
OFA Excellent
PennHip 80%
PRA: Clear by Parentage 2011
CERF Normal 2012
Cardiac Normal 2011
Thyroid Normal 2011
Noble Vestal's Sergent Pepper aka Sarge is a dream come true!
A few years ago I fell in love with a magnificent dog and set course on a plan. Later adding Sir William Conner to my program, I fell in love with the personality but he wasn't the right fit for the color I waned to achieve. So I went back to the source of my of my original love. Several generations later we have Serge.
A mellow boy with all of the charismatic charm of the authentic Australian Labradoodle, beautiful dark red fleece coat and solid frame. Sarge brings back the Labrador Retriever body which has been lost to many of the Australian Labraoodle lines.
His line is strong in producing fleece coats, solid frames, and charismatic personalities that are trumped by none other.
Photo Gallery
Pedigree & Testing Documents
Past Puppies