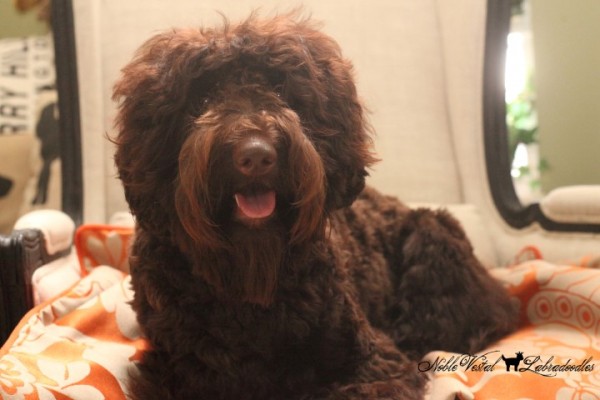 Noble Vestal's Peek-a-Boo
aka Boo
Australian Labradoodle
Coat:
Dark Chocolate BBEE Fleece
Breeder:
Northwest Australian
Sire:
Copper Canyon Toy Story
Dam:
NW Australia's Bippidi Boppidi Boo
DOB:
05/15/2013
Size:
Medium
Height:
17"
Weight:
30 lbs
Length:
1"
Testing Results:
Click to View Testing
Peek-a-Boo is stealing the show with her gorgeous fleece coat and amazingly sweet personality.
Boo is a full time snuggle bug and clone of her mother.
She lives with her guardian family where she is their constant shadow and a playmate to their other Noble Vestal Labradoodle, an old lab and two almost teenage children and their friends. She loves to goof off and play games!
Photo Gallery
Pedigree & Testing Documents
Past Puppies