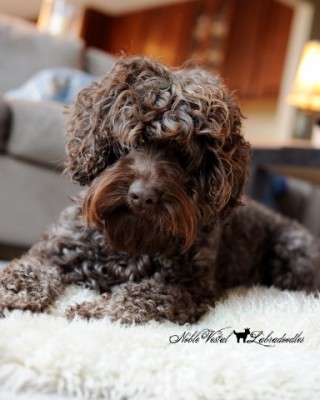 Sunset Hills Casanova
aka Cass
Australian Labradoodle
Coat:
Chocolate BBEE Fleece
Breeder:
Sunset Hills
Sire:
Sunset Hills Prince Charming
Dam:
Kaholans Kahlua
DOB:
11/02/2007
Size:
Standard
Height:
19"
Weight:
48lbs.
Length:
22"
Testing Results:
Click to View Testing
Casanova was imported into Canada in 2008 by Sandyhill Labradoodles, they have decided to take a break and are sharing Cass with us.
We are very excited to be adding Cass to our breeding program. He has the most fantastic temperament, stride and coat! His health is also high on the list of wonderful things that I can say about this boy. I look forward to seeing these traits passed on to his offspring.
Cass has been known to produce some flat coated puppies but on the up side they still have amazing personalities with the ease of not having to be groomed! We are studying pedigrees and past litters so that if we decide to breed Cass we can be prepared for these coats.
Photo Gallery
Pedigree & Testing Documents
Past Puppies