A wonderful part of our business is getting to know the families who adopt our puppies.  As much as we would enjoy visiting with everyone who is interested in meeting an Australian Labradoodle, it is just not safe or possible.  Young puppies are very susceptible to disease, and they deserve all the protection we can reasonably provide them.  Potential buyers can expose our pregnant moms and newborn puppies to unnecessary danger.  We raise our babies in the middle of our family home, not in a kennel. and individual attention and almost all of our breeding dogs live in guardian homes elsewhere so that they can have lots of individual attention and their very own forever families.  For these reasons, we are not open to the public for visitation.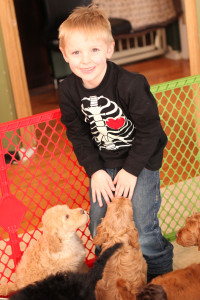 In lieu of visitation. we are eager to talk with you by phone or email.  We keep our web site, Facebook and Instagram page updated frequently, and are happy to provide lots of pictures, videos, references, and other complete information on each puppy and litter we produce.
If you are interested in meeting the breed we host several Doodle Days throughout the year for our families and potential families.  This is a great opportunity to meet the breed in person.  We do not showcase puppies during these events.  Please plan ahead for these visits as will cannot make exceptions to the date or times.
Only prescreened and qualifying families will be invited to our Doodle Day events.
Thank you for so much for your understanding.
True Story- Visitors Welcome