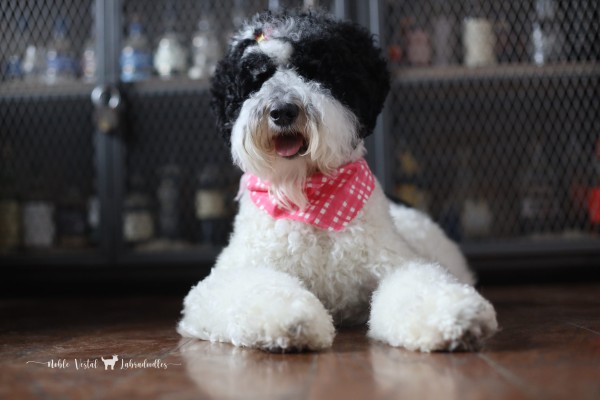 Noble Vestal's Ima Major Babe
aka Baby
Australian Labradoodle
Coat:
Apricot & White Parti BbEe Fleece
Breeder:
Noble Vestal Labradoodles
Sire:
Noble Vestal's Lord of Thunder aka Zeus
Dam:
Noble Vestal's Major Babe aka Babe
DOB:
05/28/2021
Size:
Standard
Height:
21 Inches
Weight:
48 lbs
Length:
Testing Results:
Click to View Testing
OFA Good
PennHip 70%
PRA Carrier
vWD Clear
DM Clear
EIC Clear
Noble Vestal's Ima Major Babe is an incredible girl! Baby is highly intelligent and has two modes, Play and Still. If she isn't playing with her BFFs she is still-fully watching a squirrel, bird or something in the far off distance that you can't see. She is a loyal companion who loves her people. Baby is tall and has a beautiful fleece coat of curls that are soft and silky. Baby is a Tri color with very light tan points on her face, feet and fanny. Baby can produce parti, phantom and tri patterned puppies.
Photo Gallery
Pedigree & Testing Documents
Past Puppies
First Litter Due April 2023