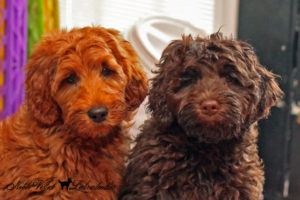 Thank you for joining us!
Thank you for selecting us as the breeder for your new puppy. Here are some articles that you will want read prior to getting your puppy.

Keep this email! Do Not Delete. I will direct you back to this email to answer some common questions, your invoice, shopping list and important pick up instructions are below.

Weekly updates are posted on our litter pages every Sunday evening. The litter page also has important dates listed for vaccinations, vet visits payment due dates and assignment dates.

I know how exciting waiting for your new puppy can be, I also know how adorable they are but please do not get fixated on one particular puppy. Puppy assignments are done at week seven and are done based on best fit given the dynamics of your family and each of the puppies. This ensures that every family gets the perfect puppy for their family! Puppy assignments are announced on the individual litter page in the Weekly Pupdate section and on Facebook.

I highly encourage you to take the time while waiting for your new puppy to become educated about dog education. In my 15 plus years of raising Australian Labradoodles we have worked with Dr Iann Dunbar. I want you to be prepared for and successful at raising your puppy. We will provide your puppy with a good foundation but it will be up to you to make it into a great dog. What you do, how you do it and when you do it will greatly determine your success and your puppy's future.  There is no time to waste when you get a puppy, the longer you wait to train him the harder it will be for everyone who will come in contact with your dog.  Please start here today Puppy Training

Please feel welcome to call or email me anytime.

Again please do not delete this message- everything that you need is in this email!

Sincerely,
Kendra Vestal

Noble Vestal Labradoodles
 Invoice
 Non-Refundable Deposit
$500.00
First Installment Due At Birth
$1,000.00
Final Balance Due At Week Six
$1,500.00
 Total Balance
$3,000.00
-Optional Six Weeks of Training Due at Week Eight
$3,900.00
-Optional Additional Four Weeks of Training
$2,600.00
Boarding and training past 8 weeks of age must be scheduled in advance.  See Adopt section of website for boarding fees.
We can only hold reservations with deposits. We allow four days grace for mail.
Reminder for installment due dates are not sent.
Make all checks payable to Kendra Vestal to 10549 N 550 W, Frankton, 46044.